Roughly seven pieces of battered fish come inside this cardboard packet from Starfish. Once you pop the box open you will see they come packaged in a non resealable plastic bag. Consider transferring them to a freezer safe box or bag once open.
Cooking: Bake or deep fry, so says the box. I'd imagine the latter makes for some seriously juicy fish, but in lieu of allowing the deep fryer back in the home, I went for the air fryer. The result is a decent finish.
Taste and texture: Good. The batter is thick and rewardingly crunchy. There's not too intermediary mush between the batter and fish layers. The fish itself is firm, and mild. As halibut is such a lean fish, you'll probably want to be careful not to overcook, and bring some form of extra topping: lemon or mayo or vinegar. The fillet pieces can skew a little dry on their own.
Overall: I thought the pieces were on the smaller side, and the mix of batter to fish, certainly favored the coating. Far from my favorite frozen fish, they were certainly not poor, middle of the pack I would say. We enjoyed them over a couple of meals as a fish and chips option and also then as fish tacos. They worked well in both.
Starfish Crispy Battered Halibut cooking and nutrition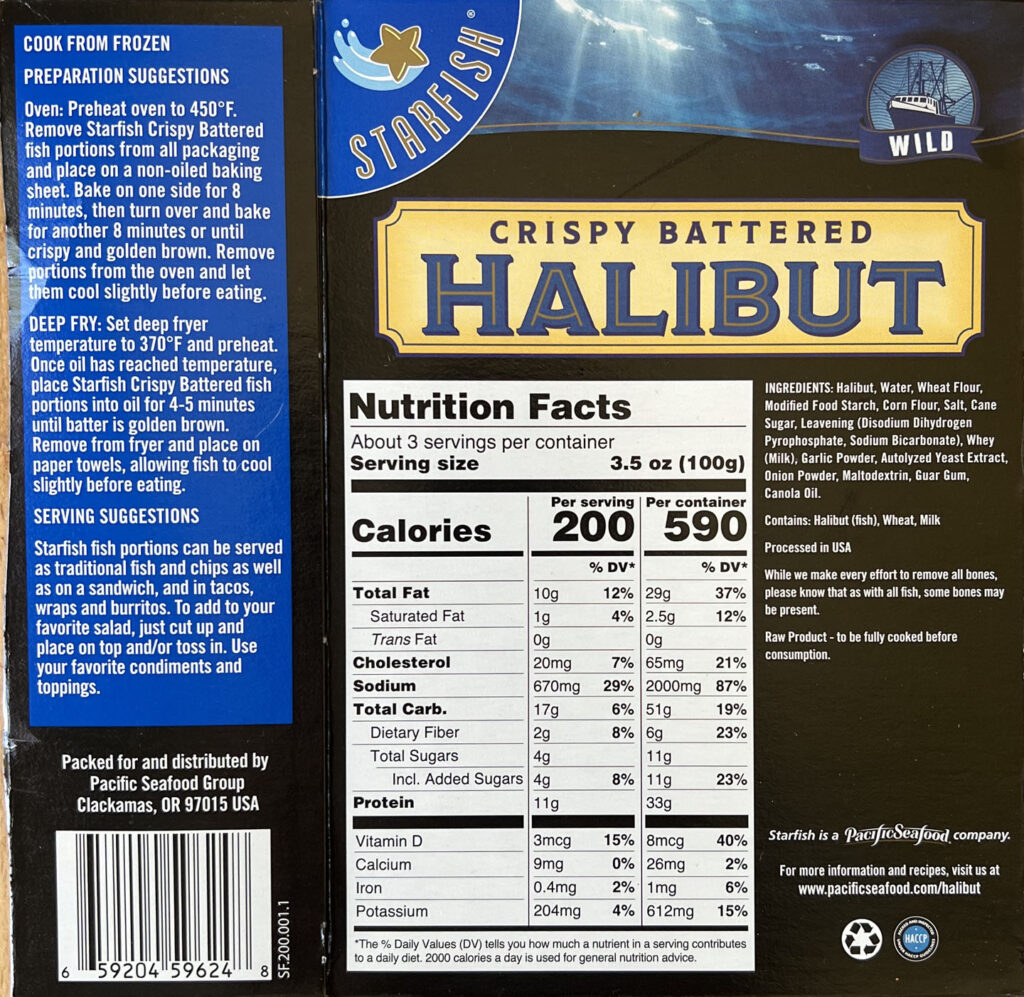 Are Starfish Crispy Battered Halibut any good?
If you're looking for a frozen piece of battered fish for your next fish and chips – this could work.  The pieces are on the smaller size, and the batter is a smidge thicker than I'd prefer, but overall, very solid.
Hi, I'm Stuart, nice to meet you!  I'm the founder, writer and wrangler at Gastronomic SLC – Utah's biggest and oldest online food magazine; I'm also a former restaurant critic of more than five years, working for the Salt Lake Tribune.  I've worked extensively with multiple local publications from Visit Salt Lake to Salt Lake Magazine, not least helped to consult on national TV shows.
I'm a multiple-award winning journalist and have covered the Utah dining scene for the better part of fifteen years.   I'm largely fueled by a critical obsession with rice, alliteration and the use of big words I don't understand.   I started Shop Smart to catalogue my adventures in the grocery store and kitchen.  Follow along on Instagram too!
Come join our
Facebook grocery group
- and keep the discussion going! Talk about this, or any other food product with like minded home cooks and shoppers. Also share what you've been cooking up, and what you've found on yoru latest grocery shop. Join the conversation
here
.