Fish what? Pie? What? My brain hurts… This is normally the befuzzled reaction I get when I explain one of my family's favorite dishes. You're more than likely thinking this now as well, but bear with me. This decadent dish is luscious, rich and filling. You need to sample it at least once. If you do, you'll probably find yourself cooking it every fall and Winter time.
The dish hails from the U.K. and goes by a few other names like ocean pie or Fishermans pie. Wikipedia reckons it was introduced to the British Isles by the Romans way back when, and those guys knew a few things about food and drink, so don't take it just from me that this dish hits the spot!
One of the things I like about the dish is its flexibility. Traditionally you use one or two different types of fish in the dish, maybe cod or haddock, maybe something smoked. Here I am just using a little bit of smoked salmon – it adds bags and bags of flavor. Whatever you decide on, something smokey really helps punch through all the richness of the cream, milk and butter. If you do deviate from this recipe on the fish front, I always find gently poaching your choice of fish is the best preparation method for this dish.
While this dish is relatively simple, it isn't quick. In my house, this is something we cook on a lazy Sunday afternoon, or maybe on a holiday while opening a bottle of wine or two. There are lots of steps and everyone can get involved if that's your thing. Someone can poach fish while someone else makes their signature mashed potatoes. For those who enjoy cooking, its a fun dish to execute. There are multiple steps and techniques and plenty of points to put your own mark on the dish. As I say, it's such a flexible dish, it's very hard to go wrong.
It's this flexibility that means you'll find all manner of variations online. As mentioned, you can use any fish or indeed shellfish (de-shelled of course!) you like. Some recipes add smoked bacon to the dish, I find that a little overpowering myself. Some recipes add boiled eggs, but um, eurrghh. My own twists include a layer of wilted spinach to offset the richness of the cream and butter; plus some Dijon mustard in the béchamel sauce for similar reasons. Side note: yes I know, this isn't a classic béchamel per se, this is a quick and dirty version – go wild though if you like! I've a jar of saffron in my cupboard that's getting increasingly close to going in my own sauce one day…
Once made, allow the dish to cool on the counter uncovered for an hour before refrigerating. Covered, I find the dish lasts one to two days, and it reheats excellent in the microwave. We enjoy the dish as is, but sometimes I also serve with some crusty French bread for dipping.
Again, with all the richness, a little goes a long way here!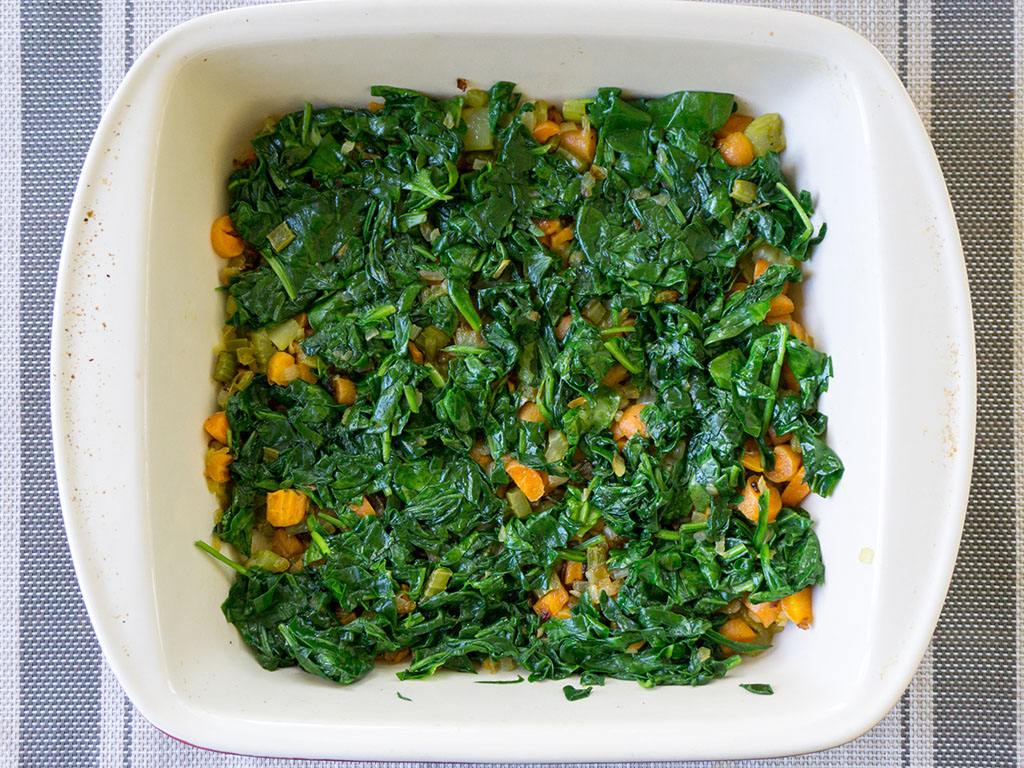 Fish Pie
A hearty and rich dish perfect for Sunday dinners or special occasions.
Ingredients
4

stalks

celery

4

carrots

1

medium

onion

5

ounces

fresh spinach

4

ounces

smoked salmon

2

tbsp

butter

4

tbsp

all purpose flour

2

cups

milk

2

tbsp

heavy cream

2

tbsp

Dijon mustard

5

russet potatoes

olive oil
Instructions
Dice carrots, celery and onion. Saute gently in olive oil with a little salt and pepper to taste. Saute until all ingredients soften, but try not to brown.

Layer a 10x6 deep baking dis with the sauteed vegetables.

Add spinach to the same pan. Cook with a touch more olive oil, salt and pepper until wilted. Layer over sauteed vegetables in baking dish.

Add your choice of cooked fish on top of the wilted spinach layer. In this recipe we're using smoked salmon, so its as simple as opening the packet, and breaking up over the dish.

Make a béchamel sauce. Gently melt butter in a sauce pan. When melted whisk in flour. Next add warmed milk slowly, while whisking. Bring to a boil and reduce heat. Mix in Dijon mustard and heavy cream. Season with salt and pepper and pour over salmon.

Make mashed potatoes. Be sure to add plenty of butter and milk to your taters, we're going for rich! When made, fork careful over béchamel layer in baking dish. Fluff mashed potato with fork for little peaks.

Bake in oven at 400f for 20 to 30 minutes. I usually cook until I see the béchamel bubbling up through the mashed potatoes.

Turn oven off, broil the pie for 5 to 10 minutes until the fluffed peaks brown, much like a shepherds pies.

Allow to cool and serve. Dish goes really well with some quality crisp French bread or similar.
Hi, I'm Stuart, nice to meet you!  I'm the founder, writer and wrangler at Gastronomic SLC – Utah's biggest and oldest online food magazine; I'm also a former restaurant critic of more than five years, working for the Salt Lake Tribune.  I've worked extensively with multiple local publications from Visit Salt Lake to Salt Lake Magazine, not least helped to consult on national TV shows.
I'm a multiple-award winning journalist and have covered the Utah dining scene for the better part of fifteen years.   I'm largely fueled by a critical obsession with rice, alliteration and the use of big words I don't understand.   I started Shop Smart to catalogue my adventures in the grocery store and kitchen.  Follow along on Instagram too!
Come join our
Facebook grocery group
- and keep the discussion going! Talk about this, or any other food product with like minded home cooks and shoppers. Also share what you've been cooking up, and what you've found on yoru latest grocery shop. Join the conversation
here
.