In today's more health conscious world of cooking, riced vegetables have started to become something of a superstar side dish. Riced cauliflower usually takes all the headlines and plaudits, often serving as a stand-in for rice for those on carb-restricted diets. Riced edamame though? I think this is the first product I've personally seen that uses the popular soy bean in riced format: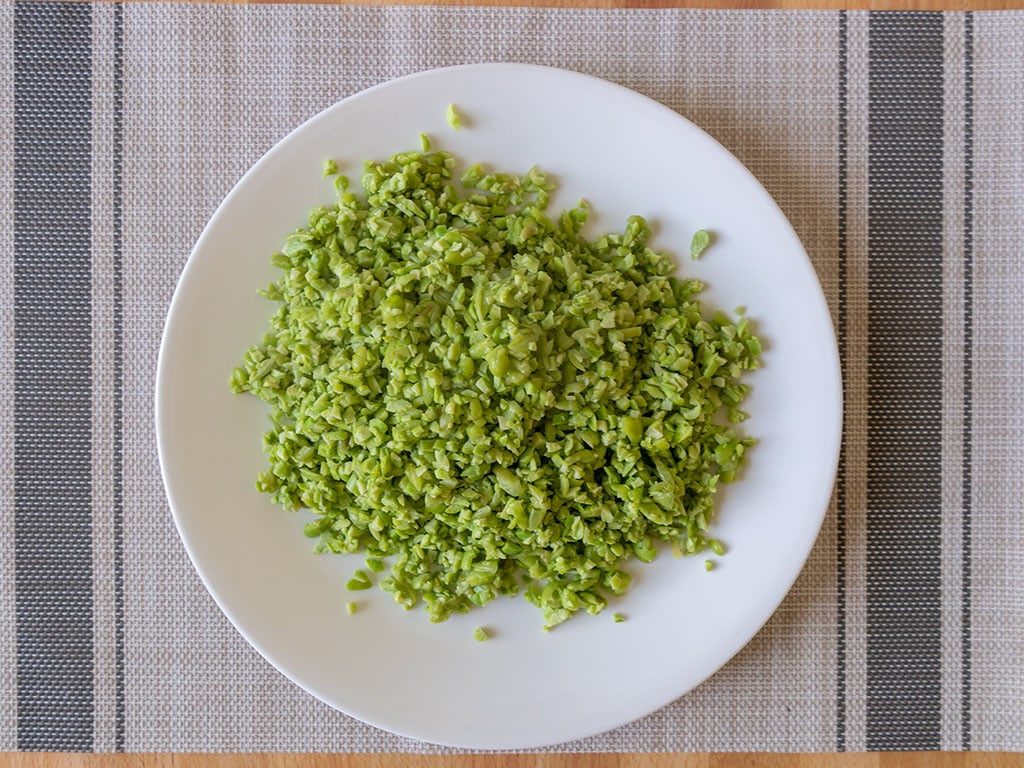 Cooking couldn't be easier. Pop it into the microwave and follow the guide on the bag – you'll have steaming hot riced edamame in barely five minutes. We used ours as a healthy side dish to these pot stickers from Whole Foods.
The verdict? Surprisingly great! The edamame retains a pleasing bitey texture that can add some interest to the dish – e.g. when contrasted to the softer pot stickers above.
Moreover, where riced cauliflower has that unmistakable pungent aroma, edamame is fairly neutral. This won't overwhelm your senses or your overall dish like cauliflower is want to do.
Another plus point here is the price, just $2-$ per pack with enough for two people in each packet. This definitely gets our thumbs up for an alternative side dish that affordable, easy, tasty and unique!
Seapoint Farms Riced Edamame cooking instructions, ingredients, nutrition
The fourth benefit is the nutrition. Edamame is packed with protein and fiber and virtually no carbs. There is of course the soy factor to keep in mind for those on certain diets.
Is Seapoint Farms Riced Edamame any good?
We're big fans of this product. Compared to the popular riced cauliflower there is none of the funk or aroma here, edamame is a far much more neutral vegetable in taste and aroma. Nutritionally it's also a superstar that can add protein and fiber to your dish. This product cooks up in just five minutes and is affordable too – what's not to love.
Hi, I'm Stuart, nice to meet you!  I'm the founder, writer and wrangler at Gastronomic SLC – Utah's biggest and oldest online food magazine; I'm also a former restaurant critic of more than five years, working for the Salt Lake Tribune.  I've worked extensively with multiple local publications from Visit Salt Lake to Salt Lake Magazine, not least helped to consult on national TV shows.
I'm a multiple-award winning journalist and have covered the Utah dining scene for the better part of fifteen years.   I'm largely fueled by a critical obsession with rice, alliteration and the use of big words I don't understand.   I started Shop Smart to catalogue my adventures in the grocery store and kitchen.  Follow along on Instagram too!
Come join our
Facebook grocery group
- and keep the discussion going! Talk about this, or any other food product with like minded home cooks and shoppers. Also share what you've been cooking up, and what you've found on yoru latest grocery shop. Join the conversation
here
.