Who doesn't love food on a stick? Thats right – no one. The moment you prod anything with a little stick and twirl it around, well, that food just became ten times more interesting and fun. And in the world of fun things on sticks – corn dogs are right at the very top of the list.
Personally, I try to limit my purchases of junky snack food to no more than a little indulgent treat every other week; so much so it took me a good few years to get around to these corn dogs – I wish I tried them sooner.
These snacks are a perfect balance of sweet and savory – never straying into the world of dessert mind you – I was very happy to discover the savory element stands up solidly here. What sugary/honey sweetness does come through, well, it'll instantly hit you with memories of Summers and fairs and fun.
State Fair Beef Corn Dogs – what's in the box
The State Fair dogs come in 8 and 16 pack varieties. I purchased the eight pack and inside the cardboard packaging comes all eight dogs are contained in one plastic sack. The bag isn't resealable so you might want to transfer the frozen dogs to a freezer bag after opening.
State Fair Beef Corn Dogs
Here's the final product, cooked up and plated, hot from the oven: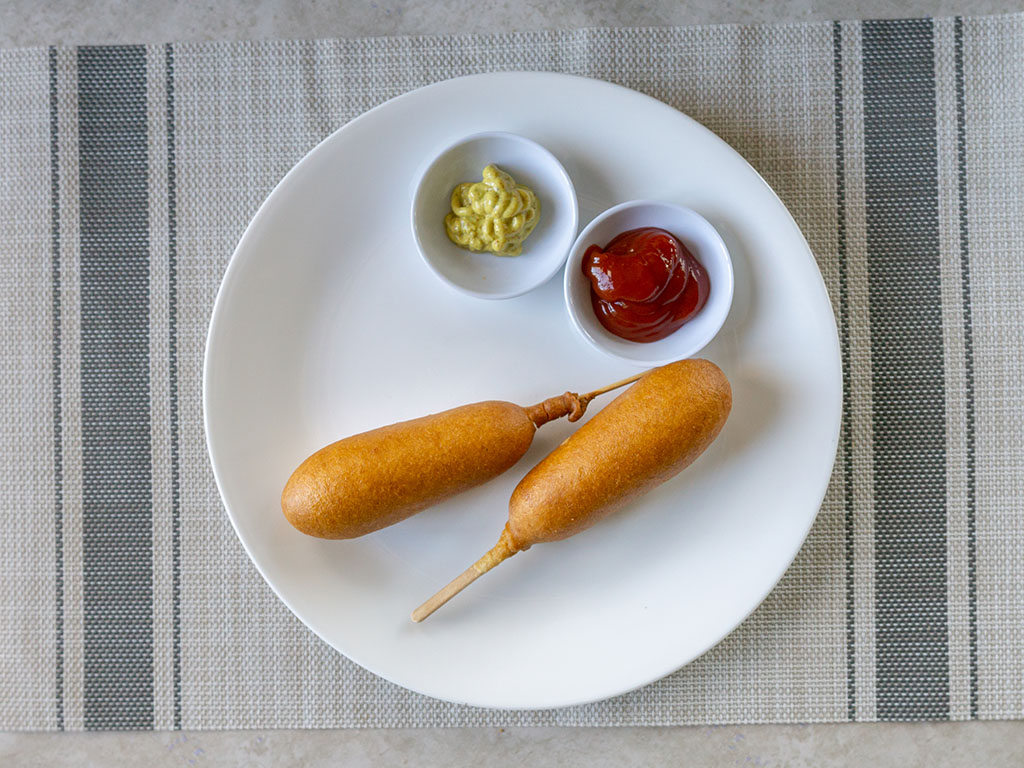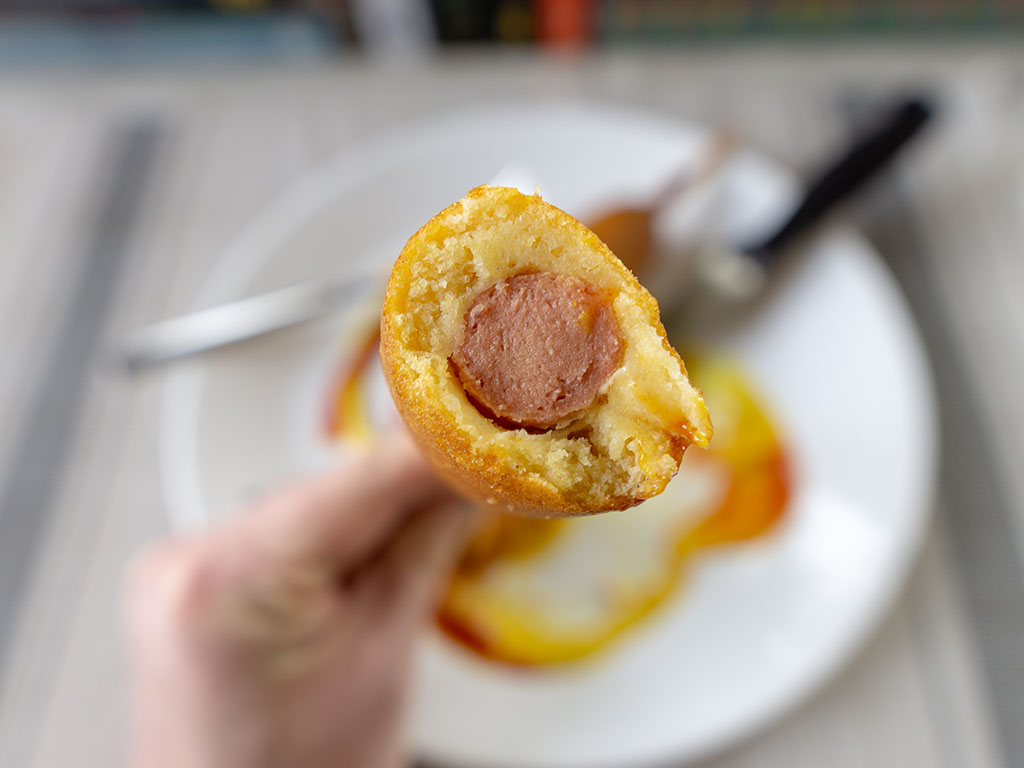 State Fair Beef Corn Dogs cooking instructions, nutrition, ingredients
Long time readers will know I largely eschew keeping a deep fryer on hand at home – I just don't need that temptation in my life on a daily basis! As a result, I've only tried these dogs in the oven and the microwave.
The oven obviously yielded the better results of the two but was perplexingly inconsistent. From batch to batch I'd have perfectly cooked and crisp dogs, then semi raw the next. I still can't figure out what/how/why – just know that you might have to tweak the stated cooking instructions a little to your own oven.
How much do State Fair Beef Corn Dogs cost
This eight count package cost me $3.97 from Walmart. At barely 50 cents a dog, these make for a fairly affordable snack.
Hi, I'm Stuart, nice to meet you!  I'm the founder, writer and wrangler at Gastronomic SLC – Utah's biggest and oldest online food magazine; I'm also a former restaurant critic of more than five years, working for the Salt Lake Tribune.  I've worked extensively with multiple local publications from Visit Salt Lake to Salt Lake Magazine, not least helped to consult on national TV shows.
I'm a multiple-award winning journalist and have covered the Utah dining scene for the better part of fifteen years.   I'm largely fueled by a critical obsession with rice, alliteration and the use of big words I don't understand.   I started Shop Smart to catalogue my adventures in the grocery store and kitchen.  Follow along on Instagram too!
Come join our
Facebook grocery group
- and keep the discussion going! Talk about this, or any other food product with like minded home cooks and shoppers. Also share what you've been cooking up, and what you've found on yoru latest grocery shop. Join the conversation
here
.