Is Yellowbird Serrano Condiment any good?
Absolutely yes! This is a medium heat hot sauce with a very enjoyable piquant flavor. I can't imagine a dish that wouldn't benefit from this sauce.
How can you not love that label? One glance at that angry little guy and this bottle was headed straight into my shopping cart. Turns out that was a good choice. First up, a little about the company. Yellowbird Foods are an Austin Texas based company and currently have a line of five hot sauces. All of their sauces share a similar production ethic that focuses on flavor and health. As afar as I can tell this loosely translates into reduced artificial ingredients in the bottle and a commitment to working with local producers to create the final products. It also creates a mighty fine hot sauce if I may say so myself. And I do.
Taste wise this is slightly sweet with bags of vegetal flavor. It has a medium amount of zest and heat. You're not going to recoil winching at either the tartness or the heat. Well, I assume if you've picked this bottle up, you're at least comfortable with a Serrano level heat that is! You're either a hot sauce lover to you're not, and you know if you are…
I can't imagine a dish that wouldn't benefit from a splash of this very well balanced sauce. All the old hot sauce tropes fit well here: eggs, tacos, pizza etc. I'd as happily use some as a way to brighten up a sandwich as I would to dip French fries in. One particular unique use for this sauce that immediately comes to my mind, would be to help brighten up some basic guacamole. The green-vegetal notes of the hot sauce's flavor would blend well with rich creamy avocado I think. Similarly it would go well in a dressing for green salads too.
This is a definite Smart Buy in my book!
Yellowbird Serrano Condiment ingredients
True to their words, the ingredient list is happily sparse. There's no filler here or random garbage; as you read the ingredient list it's clear each ingredient is simple and necessary.
Yellowbird Serrano Condiment nutrition
Hey, it's a hot sauce, it's going to be salty! That said, here's the packaging:
Where Can I buy Yellowbird Serrano Condiment
So far I've found this in Whole Foods, your local store may also carry this. I paid $7.99 for the pictured large bottle 20 ounce bottle – which is a great price in my book. If your local Whole Foods doesn't yet stock this or you don't have access to one, Yellowbird also have an online store too: https://yellowbirdsauce.com/shop/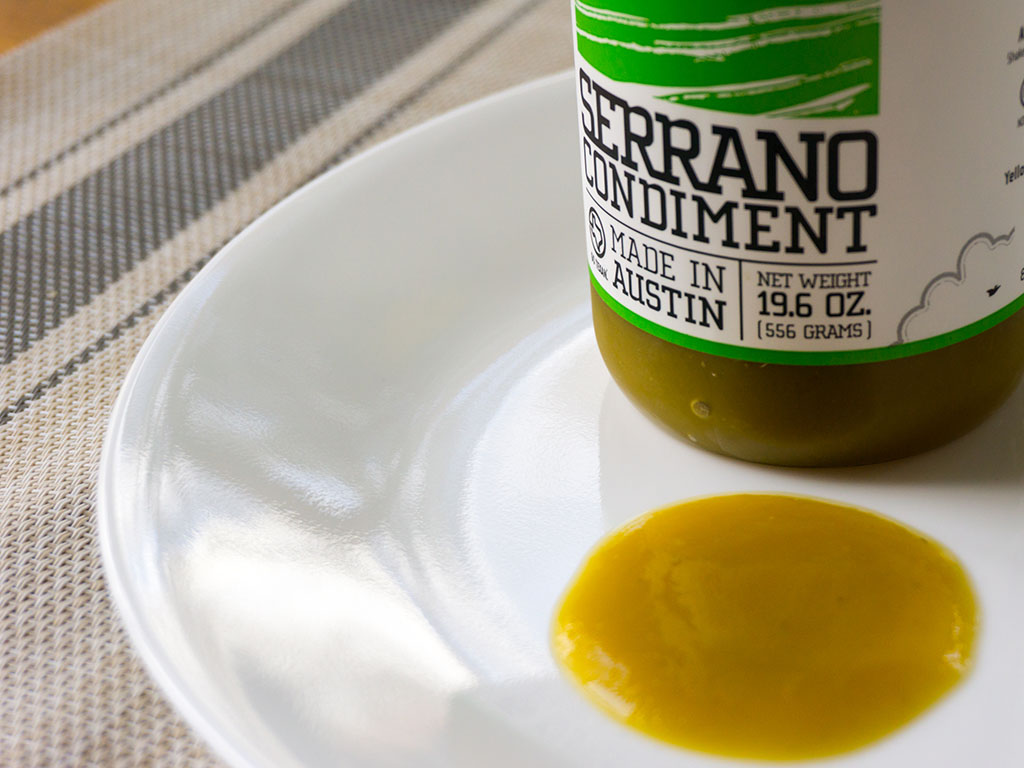 Hi, I'm Stuart, nice to meet you!  I'm the founder, writer and wrangler at Gastronomic SLC – Utah's biggest and oldest online food magazine; I'm also a former restaurant critic of more than five years, working for the Salt Lake Tribune.  I've worked extensively with multiple local publications from Visit Salt Lake to Salt Lake Magazine, not least helped to consult on national TV shows.
I'm a multiple-award winning journalist and have covered the Utah dining scene for the better part of fifteen years.   I'm largely fueled by a critical obsession with rice, alliteration and the use of big words I don't understand.   I started Shop Smart to catalogue my adventures in the grocery store and kitchen.  Follow along on Instagram too!
Come join our
Facebook grocery group
- and keep the discussion going! Talk about this, or any other food product with like minded home cooks and shoppers. Also share what you've been cooking up, and what you've found on yoru latest grocery shop. Join the conversation
here
.