Of all the big name deli meat brands you will find at the grocery story – Boar's Head are my favorite. Not only is the selection extensive, but the quality is usually high. Here are some of my favorite Boar's Head meats, and what you need to know. I've also included the product notes direct from Boar's Head as well. Each of these is guaranteed to make a great sandwich.
Boar's Head Rosemary and Sun-dried Tomato Ham
What they say: Capturing the sun-drenched flavors of Tuscany, Boar's Head Rosemary & Sundried Tomato Ham is coated with a culinary blend of herbs, spices, and sundried tomatoes. The result is an unmistakable rich rustic taste.
This is one of my favorites. The ham has a natural sweetness that's accentuated by the herby rosemary, and bright tomato. It's the opposite off that store brand, plastic ham that wriggles around.
Boar's Head Pitcraft Smoked Turkey
What they say: Slow smoked with real mesquite wood chips to give it a real pit-smoked flavor, Boar's Head Bold PitCraft Slow Smoked Turkey Breast is seasoned with an authentic dry rub that consists of paprika, brown sugar and Mexican chilies, including Guajillo Peppers.
The smoke flavor is prominent throughout this one, and I don't doubt Boar's Head claims it's smoked over real mesquite. The exterior has a slight crisp to it, nut the interior is plenty juicy.
Boar's Head Deluxe Roast Beef
What they say: Simply seasoned with salt, pepper and garlic, this tender cut is then roasted to delicious perfection. Boar's Head Deluxe Low Sodium Oven Roasted Beef is a healthier take on a classic that is sensibly spiced for big roast beef flavor in each slice
This premium roast beef option has a good strong beefy flavor. The beef is cooked to a well temp on the exterior but is notable medium closer to the center – lending a nice pink hue to the beef. I love this one on a simple sandwich, but just as. much heated up in the pan with some au jus for a French dip sandwich.
Boar's Head Beef Bologna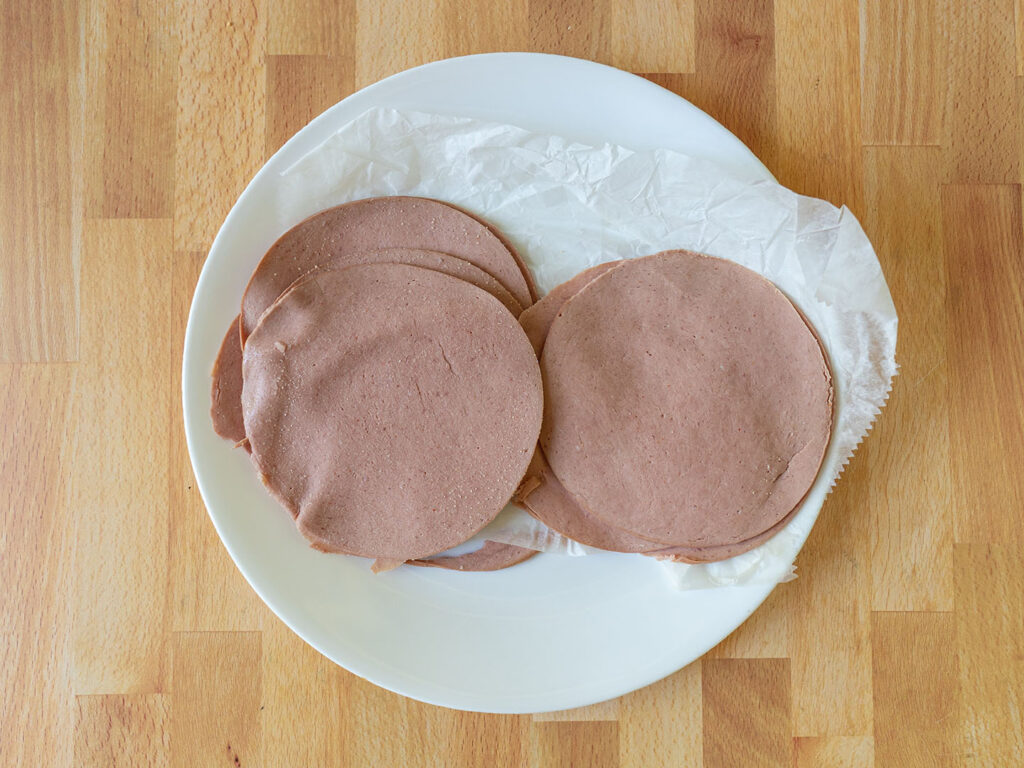 What they say: Crafted with hand-trimmed cuts of beef and carefully selected spices, this all-beef bologna is made according to a traditional recipe. Boar's Head Beef Bologna is bursting with rich flavor in each tender slice.
This American take on Italian Mortadella is a smooth, emulsified meat. Compared to the more usual pork bologna, this beef version is slightly creamier to my taste. There's some gentle sweetness too. Given the meats smooth and soft texture, it's good to pair this one with some crisp textural contrast like iceberg lettuce.
Boar's Head London Broil Roast Beef
What they say: Hand-trimmed and carefully seasoned with garlic, and onion. This cut is then slow-roasted to tender perfection. Boar's Head London Broil Cap-Off Top Round Oven Roasted Beef packs classic meaty flavor in each rich and savory slice. 
The garlic and onion seasoning shine through more strongly than other Boar's Head beef products here. If you're looking for a more nuance beef, this is the one.
Boar's Head Rotisserie Chicken
What they say: Reminiscent of savory home-style rotisserie cooking, Boar's Head Rotisserie Seasoned Chicken Breast is delicately browned and expertly seasoned with aromatic herbs and spices for a flavor the whole family will gather for.
It's not quite the same as snagging a store roasted rotisserie chicken, but this one still packs tons of savory flavor.
Boar's Head Pastrami Round
What they say: This flavorful cut is hand-trimmed and expertly seasoned, then brined and cured using traditional methods.
This pastrami has a good pastrami marbling throughout. This makes it great for cooking in the pan too, the fat renders beautifully.
Ideas for using Boar's Head deli meats
Got a packet of deli meat in the fridge and looking for something more interesting than your usual sandwich creation? How about some of these ideas…
Fried bologna burger
Fried bologna sandwiches get all the love… why not top a burger with some of the pan fried stuff? IT makes pastrami burgers look boring and bland. Actually speaking of pastrami…
Pastrami dog
Load up that hot dog with fried pastrami and thank me later. On the dog above I've also used tomato, lettuce, onion and "fry sauce" – a mix of mayo and ketchup. Yep that's green Jello on the side. Hey I live in Utah…Google it…
French Dip soaked
Riffing on the idea of a Chicago Italian beef that's served wet – e.g. submerged in lots of au just. The sandwich becomes a mushy mess, so you'll need a knife and fork, but it's worth it. Some horseradish mayo helps sharpen things too.