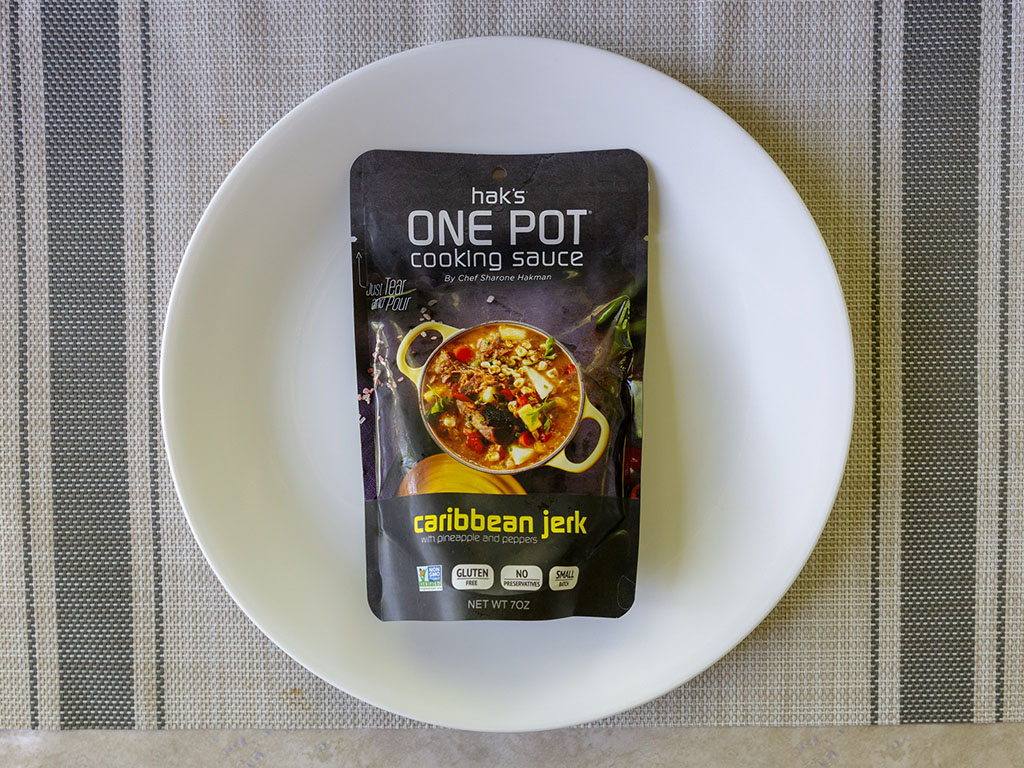 Is Hak's One Pot Cooking Sauce Caribbean Jerk any good?
I'd personally skip this one. The aroma of the sauce out of the package is promising but ultimately I found this to fail to deliver the zip and zing of flavor that I'd expect from
I can't think of an International cuisine I don't enjoy. I love to explore different culture's culinary treats and the myriad flavors and ingredients along the way. One of my favorite discoveries over the years has been Jamaican jerk dishes. Jerk seasoning is an explosive blend of warm spices – think cinnamon, ginger, nutmeg, cloves and an uppercut of fiery spice. The sauce commonly uses Scotch bonnet peppers and even as a spice lover a good jerk dish will have me furiously mopping my brow.
In the past I've purchased everything from jerk spice blends to rubs to made my own from scratch – it's a unique flavor profile that when you crave, nothing else will do. When I saw this package at Smith's, you can understand why I was excited to grab it and get to cooking – a quick way to add fire and fury to a weeknight dish? Sadly, this sauce didn't have any of the verve or vivaciousness I'd expect from a jerk style dish.
Initial impressions out of the packet were positive, the aroma got me excited. In cooking though the sauce seemed to timidly retreat. The final result lacked any material heat or spice, at least to my palate. The overwhelming flavor was one of sweetness, but without the flame and fire normally associated with jerk, there was a lack of balance. My wife – less taken with all things fiery – also concurred and wasn't keen either.
I would personally pass on this sauce, a quick Google will yield some very simple ways to craft a jerk sauce or seasoning that would be much better.
Hak's One Pot Cooking Sauce Caribbean Jerk – cooking instructions and nutrition
Hak's One Pot Cooking Sauce Caribbean Jerk
In using this cooking sauce, I went straight to the obvious dish – rice and beans with a jerked protein; I chose to use seitan as I've had success using jerk seasonings to tame the wheat gluten's strong taste in the past. I also made a salad too with the same toppings:
Hak's One Pot Cooking Sauce Caribbean Jerk – what's a fair price?
I found this sauce for $3.49 at Smith's.
Come join our
Facebook grocery group
- and keep the discussion going! Talk about this, or any other food product with like minded home cooks and shoppers. Also share what you've been cooking up, and what you've found on yoru latest grocery shop. Join the conversation
here
.