This offer popped up in my inbox recently from DoorDash. $7 for two BK Whoppers, with free delivery from DoorDash. The interesting bit? One of these burgers would be the much written about Impossible Burger. Delivered together for free, would be testers could compare and contrast from the comfort of their own home.
I was immediately sold if not only for novelty factory. So how did the Impossible Whopper fare? Is the end of the original Whopper nigh? Is it indistinguishable from the real deal? Read on to find out…
Side note: the DoorDash offer is still available through till September 1st 2019.
First up, this isn't a review of DoorDash or BK or burgers in general, just a direct comparison between the two Whoppers. Below I've included a series of side by side pictures. See if you can spot which is which before we dive into the wordy stuff.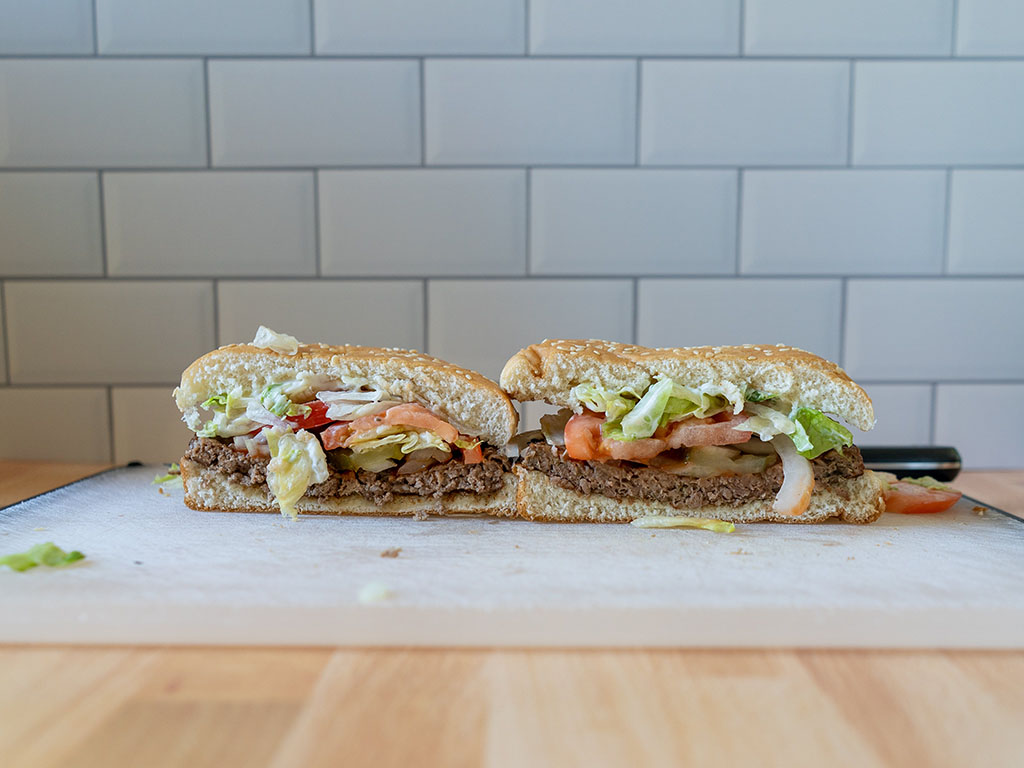 So did you spot the Impossible Whopper in those pictures? Pretty close right, at least visually! If you we're struggling to guess which was which, that last picture probably gave it away.
For clarity, in the above pictures, the Impossible Whopper is on the right hand side in every picture.
So does the Impossible Whopper beat the original?
Let's get the headline item out of the way. I don't think dyed in the wool meat eaters will be turning in their original Whoppers anytime soon. The Impossible is immediately recognizable in taste as not being a BK Whopper. For those familiar with the Whopper – that smokey richness is completely missing from the Impossible.
I don't know how for sure how BK create that signature taste in their burgers. They might add a liquid smoke product to their patty or the flame-broiled cooking process they advertise might deliver the BBQ taste. Whatever it is, it's simply not present in the Impossible burger. It's such a signature of this product, it's starkly apparent.
Despite numerous breathless reviews online about the two being indistinguishable, it's frankly nonsense. If someone genuinely is fooled by the two, I'd suggest they stop writing about food.
This isn't to say the Impossible is poor, far from it, it's good, it's just…different. Piled amongst the regular BK Whopper toppings of tomato, onion, pickle, lettuce, mayo and ketchup the flavor profile of the Impossible sinks into the background. At this point it becomes more of textural item on the burger. It's here the Impossible patty really shines. Take a look at this close up:
The grain of the Impossible meat is remarkably similar to the real deal. If you prize it apart with your fingers, it stretches and tears like real ground beef. When you bite into it, it has resistance just like ground beef, though it's ever so mushier.
Other Impossible BK Whopper notes
The Impossible burger patty is vegan as standard, but vegans should note that the Impossible Whopper ships with real mayo. They'll need to nix that if they want a truly vegan burger. For vegetarians, I'm not sure if the burger comes off the same cooking line as the meat based burgers, but I'd be very surprised if they cross-cooked the patties.
I've read that the Impossible will retail for a buck more than the original Whopper. For the time being I think that will mean the Impossible Whopper will be a novelty for most fast food shoppers. It's demonstrably not identical to the original Whopper (lacking the smokey taste) and costs more. For vegans/veggies this is a great addition to the fast food landscape though.
For me, I don't think I'll bother again; not unless the pricing changes radically. I rarely eat fast food and when I do, it's for a cheat sort of meal. I want the calories, fat and junkiness of it – and when I'm craving that – I don't want to skimp.
Hi, I'm Stuart, nice to meet you!  I'm the founder, writer and wrangler at Gastronomic SLC – Utah's biggest and oldest online food magazine; I'm also a former restaurant critic of more than five years, working for the Salt Lake Tribune.  I've worked extensively with multiple local publications from Visit Salt Lake to Salt Lake Magazine, not least helped to consult on national TV shows.
I'm a multiple-award winning journalist and have covered the Utah dining scene for the better part of fifteen years.   I'm largely fueled by a critical obsession with rice, alliteration and the use of big words I don't understand.   I started Shop Smart to catalogue my adventures in the grocery store and kitchen.  Follow along on Instagram too!
Come join our
Facebook grocery group
- and keep the discussion going! Talk about this, or any other food product with like minded home cooks and shoppers. Also share what you've been cooking up, and what you've found on yoru latest grocery shop. Join the conversation
here
.